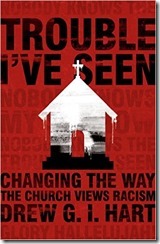 I'll be hosting an open community discussion this fall, from September 14th through November 23, at Snoqualmie Valley Alliance Church, on the topic of racism in America as it applies to the American church, and more broadly to the American experience.
We'll be using Dr. Drew Hart's book as the starting point for the discussion.
We are open to all, and the discussion will run about an hour, from around 6:50 pm through 7:50pm.
It's an open Q&A forum where we will read the book and then discuss it chapter by chapter.
I'll moderate, but the goal is not to have someone (me!) lecture or force answers.
All are welcome to come. It will be an interesting experience for many. The goal is not to make people change their minds, but to provide a place to ask questions, to listen, and to learn.
There is no test at the end.
For more information, please call the Snoqualmie Valley Alliance office at 425-441-8364.
The campus is located at
36017 SE Fish Hatchery Road
Fall City, WA 98065